Info Graphics have been gaining in popularity as a simple visual to help communicate ideas. I have created a info graphic that outlines visually how to write a personal vision statement.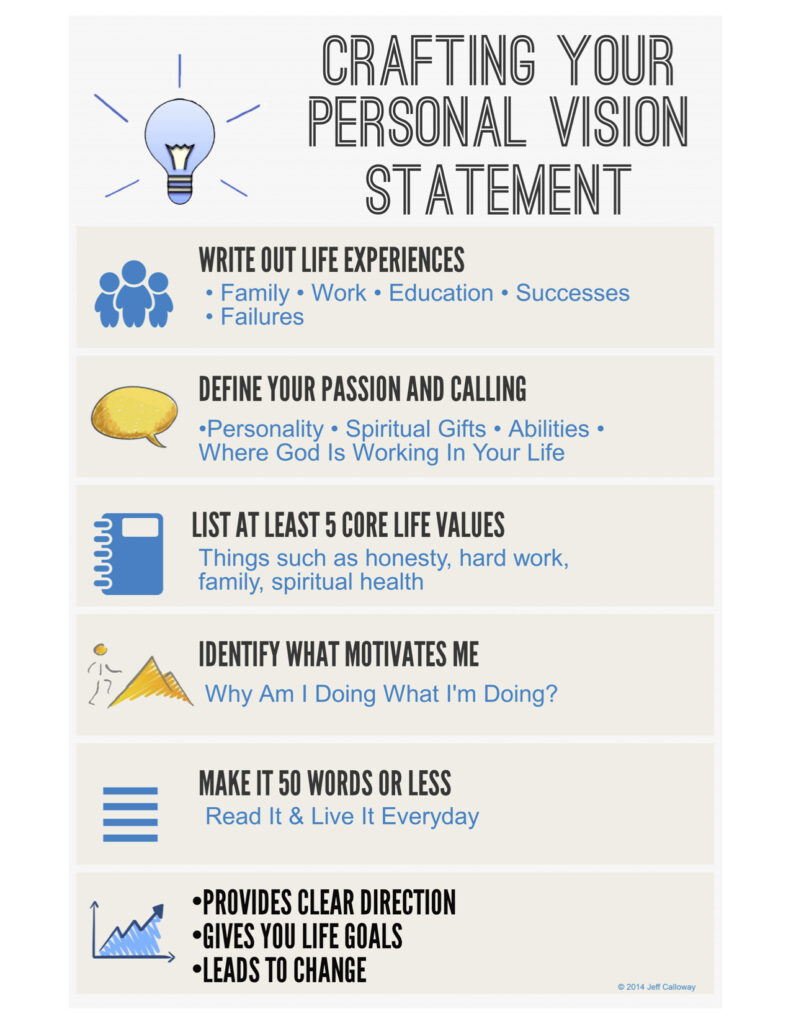 Writing things down is so important in life. For us men, how many times has our wives given us a task that we have quickly forgotten about because we failed to actually write it on the honey-do list? Big mistake! Most people think they don't need to write things down because they have a great memory or it isn't that important in the first place. I have learned that writing things down makes things a lot easier in life, especially the things that are important to my wife.
I have had the opportunity to attend many conferences during my adult life, in both the business world and also as a pastor. Nearly every one I've attended has dealt with vision, goals, etc., and all have made it a point that one of the keys to knowing where you are going is to write out your life/church vision or mission statement. In May of 2004, I attended Ken Davis's "Dynamic Communication Workshop" in Colorado. There, I met Cheryl Dick, the director of operations for Chick-fil-A restaurants. As we exchanged business cards, I was pleasantly surprised to see Chick-fil-A's corporate purpose statement on their business cards: "To glorify God by being a faithful steward of all that is entrusted to us and to have a positive influence on all who come in contact with Chick-fil-A." It didn't impress me that much that the fast food chain had a purpose statement printed on their business cards, as this is rather common. What did impress me, though, was that they had the audacity to start their statement with their purpose, "to glorify God," Followed by their vision, "to have a positive influence on all who come in contact with Chick-fil-A."
The vision statement is what God wants you to do. What you are going to do next is work on the reasons for the vision to begin to take shape.